Archive for November, 2012
 The Freedom From Religion Foundation
Metropolitan Chicago Chapter (FFRFMCC) is the
Chicago chapter of the national Freedom From Religion
Foundation (FFRF), based in Madison, Wisconsin.
The purpose of the FFRFMCC is to:
Protect the constitutional principle of separation of state and church

Educate the public on matters relating to non-theism

Act as a social organization for freethinkers to meet, gather and converse with other like-minded individuals

Coordinate community service and charity work and create partnerships with secular-based charitable organizations/foundations

Work to encourage atheists, agnostics and skeptics to be open about their non-belief
If you have any comments or suggestions, email us at info@ffrfmcc.org.
Thank you for your interest.
Keep Current with FFRF
and FFRFMCC News
FFRF To Run TV Ad With Ron Reagan!

Coming off the heals of the Supreme Court's disappointing decision to inject more religion into our government, Ron Reagan, atheist and Honorary Board member of the Freedom From Religion Foundation, will be featured in a 30-second TV endorsement produced by FFRF.  In the spot, Mr. Reagan speaks to the importance of state/church separation, and putting a halt to religious intrusion in matters of public policy.
This historical commercial will air Thursday, May 22nd on Comedy Central's "The Daily Show" with Jon Stewart (10:00 P.M. Central) and "The Colbert Report" with Stephen Colbert (10:30 P.M. Central), and will be the first ever atheist/freethinker TV ad to run on either of these programs!
To view a sneak preview of this new ad, please click here
FFRF hopes to expand placement of the spot to regional advertising on national shows, with the goal of having it air on CBS' "60 Minutes" and MSNBC's "The Rachel Maddow Show."  In order to accomplish this however, they will need to raise funds.  To make a tax-deductible donation to help FFRF with this important objective, please click here to make your contribution.
And Thank You Ron Reagan!
————————————————————————————————————————————
U.S. Supreme Court Rules in Favor of
Sectarian Prayers in Government Meetings
In a 5-4 decision divided between conservative and liberal justices, the U.S Supreme Court ruled in the case of the Town of Greece, NY vs. Galloway that content is not an issue regarding government-sponsored prayer invocations in public meetings.   The content in question was the pervasiveness of Christian language being used to deliver invocations during the opening of the Greece, NY city council meetings.  The two plaintiffs in the case were a person of non-religion and one of Jewish faith.
In Justice Samuel Alito's majority opinion, he states:
"Not only is there no historical support for the proposition that only generic prayer is allowed, but as our country has become more diverse, composing a prayer that is acceptable to all members of the community who hold religious beliefs has become harder and harder. It was one thing to compose a prayer that is acceptable to both Christians and Jews; it is much harder to compose a prayer that is also acceptable to followers of Eastern religions that are now well represented in this country. Many local clergy may find the project daunting, if not impossible, and some may feel that they cannot in good faith deliver such a vague prayer."
Without realizing it, Justice Alito hit the nail right on the head as to exactly why prayer should not be allowed in government meetings, which are designed to be a platform to give representation to everyone, especially those in the minority.
But once again, the Supreme Court has it all wrong.  This ruling only serves to provide the majority with the say on which religion should be most represented in government meetings.  When in fact, none should be represented at all.
To read the entire transcript of the Court's opinions, please click here
————————————————————————————————————————————-
FFRF and FFRFMCC Debut Counter Display to
Protest Catholic Evangelizing in the Public Square
Over the past several years, the Catholic affiliated Thomas More Society has been bringing its message of "Divine Mercy" to Daley Center Plaza during the Christian holy week.
But this year,  FFRF and its Chicago Chapter are on hand with a message of their own — Keep State and Religion Separate!
The 12 foot FFRF display features a banner of John Adams with his quote from the Treaty with Tripoli, which reads:  "…the government of the United States is not in any sense, founded on the Christian religion…"At the top of the banner appears: "Keep State and Religion Separate"
Another banner with the image of Thomas Jefferson features one of his many famous secular quotes: "Question with boldness even the existence of a god…"  The top declares:  "In Reason We Trust"
Smaller placards attached to the banner stand call out the Catholic church for using taxpayer property to evangelize, and remind Christians of some not-so-merciful passages straight from the New Testament.
The FFRF display went up on Thursday, April 17th, one day before the Thomas More display was erected, which includes a 9 foot banner of Jesus Christ with the caption, "Jesus I Trust In You" next to a 19 foot cross.
Both displays will be up in Daley Center Plaza until Saturday, April 26th.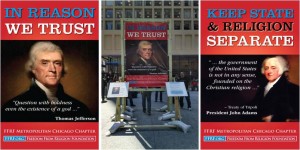 ————————————————————————————————————————————-
FFRF Receives Favorable Ruling on
Parsonage Exemption Lawsuit
In one of three FFRF lawsuits against the IRS challenging religious preferential treatment by the federal government, U.S. District Judge Barbara Crabb ruled the 1954 housing credit allowance given to "ministers of the gospel" to be unconstitutional.  Under the current provision, ministers of religious faith may use an untaxed portion of their income toward housing rent or the purchase of a home.
Between 2002 – 2007 alone, clergy in the United States had saved an estimated $2.3 billion in taxes.  This decision will have huge ramifications regarding religious privilege given by our government in this country.
To read more regarding this court decision, please click here
————————————————————————————————————————————-
The FFRFMCC Hosts its First Debate! -
"Does the God of the Abrahamic Religions Exist?"

A debate between Freedom From Religion Foundation co-president Dan Barker and theology professor Dr. Bryan O'Neal from the Moody Bible Institute took place on December 3rd, 2013 at Loyola University in Chicago, IL.  The debate was organized by the FFRF Metropolitan Chicago Chapter and the Loyola University Secular Student Alliance.
The topic, "Does the God of the Abrahamic Religions Exist?" was moderated by Chicago Tribune columnist Eric Zorn.  Approximately 200 people were in attendance, and audience members were provided with an exit survey in order to gauge the impact of the debate on each of them.
A total of 121 surveys were returned, revealing the following audience profile by religious identification:
Religious, affiliated with a specific religious tradition – 31%
Religious/Spiritual unaffiliated – 3%
Non-Religious – 62%
Undecided – 4%
To view the complete audience survey, click here
————————————————————————————————————————————–
Freedom From Religion Foundation Files Amicus Brief
in Greece, NY Supreme Court Prayer Case
Putting together a compelling argument for overturning the 1983 Marsh v. Chambers Supreme Court decision allowing for legislative prayer under certain circumstances, FFRF staff attorneys Andrew Seidel, Rebecca Markert, Patrick Elliott and Liz Cavell have submitted an Amicus (Friend of the Court) Brief in the case of Town of Greece v. Galloway.  The ruling in this current Supreme Court case could either put a halt to legislative prayer, or open the doors for more wide-spread use of sectarian prayer in government.
To read the entire brief, please click here
—————————————————————————————————————————————
FFRF and North Carolina Chapter given "green light"
from federal judge to proceed with IRS Form 990 lawsuit
The Freedom From Religion Foundation, along with fellow plaintiff The Triangle Freethought Society of North Carolina, were awarded standing on Aug. 22, 2013 by a U.S. District Judge from Wisconsin to pursue another of their three lawsuits against the IRS.  FFRF is challenging an IRS rule preempting religious nonprofits from having to file the financial accountability Form 990, one that is required by all other nonprofits to submit annually.  A ruling in favor of FFRF's complaint would make the financial information of U.S. religious nonprofits available to the public.

Click here to read complete news release
—————————————————————————————————————————————–
In Hobby Lobby We Don't Trust!
During the July 4th holiday, the Christian retail chain Hobby Lobby purchased full page ads in newspapers across the country featuring "In God We Trust" in large, bold letters surrounded by "quotes" from our founding fathers aimed at giving the false impression our country is a Christian nation.  Many of these were wildly inaccurate while others were taken out of context to alter their meaning.  FFRF breaks down the misinformation conveyed in the Hobby Lobby ads by providing a side-by-side comparison of the quotes used in their ads with the original quotes from the founding fathers.
To read the entire FFRF analysis, please click here
——————————————————————————————————————————————