Archive for November 26th, 2012
 The Freedom From Religion Foundation
Metropolitan Chicago Chapter (FFRFMCC) is the
Chicago chapter of the national Freedom From Religion
Foundation (FFRF), based in Madison, Wisconsin.
The purpose of the FFRFMCC is to:
Protect the constitutional principle of separation of state and church

Educate the public on matters relating to non-theism

Act as a social organization for freethinkers to meet, gather and converse with other like-minded individuals

Coordinate community service and charity work and create partnerships with secular-based charitable organizations/foundations

Work to encourage atheists, agnostics and skeptics to be open about their non-belief
If you have any comments or suggestions, email us at info@ffrfmcc.org.
Thank you for your interest.
Keep Current with FFRF
and FFRFMCC News
FFRF and the FFRFMCC to Launch "Out-of-the-Closet" Billboard Campaign in Chicago!

Local freethinkers from the Chicago area will be featured in a billboard campaign encouraging other non-theists to more open about their non-belief, and be more diligent in challenging the irrational superstitious claims of the religious faithful.
The campaign will begin on December 15th, 2014 with twelve billboards running for a 4-week cycle, and  featuring advertisements similar to recent campaigns run by FFRF in Sacramento, CA and Cleveland, OH, through the local FFRF chapters in those cities.
Billboard locations are still yet to be determined, so stay tuned for more information on this exciting initiative!
————————————————————————————————————————————
FFRFMCC Non-Theist Holiday Displays to Again be Erected in the Chicago Area!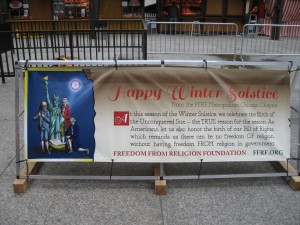 Once again this year, the non-religious will have a voice in the Chicago area countering the religious symbolism widely present on public property during the the month of December.
Beginning Monday, November 24th, 2014, the FFRFMCC will erect their 8 1/2′ high illuminated Dawkins' "Scarlet A" sign in Chicago's Daley Center Plaza.  Next to that will be back-to-back 2 1/2′ x 7 1/2′ banners celebrating the Winter Solstice (the TRUE and ORIGINAL reason for the season), and also honoring the birth of our nation's Bill of Rights, which was ratified on December 15th, 1791.
Daley Center Plaza is located at 50 W. Washington St. in Chicago.  The displays can be found along Dearborn Street (east side of the plaza).
And on Saturday, November 29th, 2014, the FFRFMCC will team with the Chicago Coalition of Reason and erect two separate secular displays in Arlington Heights to counter a Christian creche, which has been setup by the Illinois Nativity Scene Committee for the past two years after they had pressured the Arlington Heights Park District (by way of a threatened lawsuit) to add a "free speech zone" public forum area within its huge and completely secular holiday display at North School Park.  This year, secular displays will outnumber the religious one, featuring a 3 1/2′ x 7′ banner asking: "Are you Good Without God?  Millions are!"  Across from that will be a smaller 5′ high version of the illuminated Dawkins' "Scarlet A" sign, designed to encourage atheists to come "out-of-the-closet."
North School Park is located adjacent to the Arlington Heights Park District building at 410 N. Arlington Heights Rd. in Arlington Heights.  The public forum area can be found at the northwest corner of the park.
So bring some secular cheer into your Winter Solstice holiday season by visiting all of these wonderful displays!
————————————————————————————————————————————