The Freedom From Religion Foundation
Metropolitan Chicago Chapter (FFRFMCC) is the
Chicago chapter of the national Freedom From Religion
Foundation (FFRF), based in Madison, Wisconsin.
The purpose of the FFRFMCC is to:
Protect the constitutional principle of separation of state and church

Educate the public on matters relating to non-theism

Act as a social organization for freethinkers to meet, gather and converse with other like-minded individuals

Coordinate community service and charity work and create partnerships with secular-based charitable organizations/foundations

Work to encourage atheists, agnostics and skeptics to be open about their non-belief
If you have any comments or suggestions, email us at info@ffrfmcc.org.
Thank you for your interest.
Keep Current with FFRF
and FFRFMCC News
 ————————————————————————————————————————————
Wave 3 of the Chicago FFRF "Out-of-the-Closet" Billboard Campaign Is Now Appearing in Chicago!

The final seven of 21 total billboards created by the FFRFMCC featuring area freethinkers encouraging other non-theists to more open about their non-belief were erected for another 4-week flight beginning March 4th, 2015 in locations around the north side of Chicago.
The campaign began on December 15th, 2014 with eleven individual billboards scheduled for a 4-week cycle (although some are still up!), and  continued the week of January 19th with three new designs featuring groups, including the Chicago Black Skeptics, five "senior" atheists, and five FFRFMCC Board members.
This newest campaign includes three couples, two physicians, a former minister, and a Secular Student Alliance president.
Since debuting the "Out-of-the-Closet" campaign in Madison in 2010, FFRF has taken the personalized campaign to Columbus, Tulsa, Raleigh, Phoenix, Nashville, Portland, Spokane, Sacramento, Cleveland and Akron.
The new Chicago billboards and their locations are below.
And if you would like to openly declare your non-belief by creating your own "Virtual Billboard" or recording your own personal video which will appear on the FFRF website, please click
here
.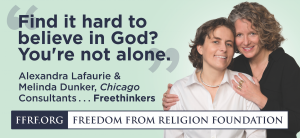 Located at Irving Park Rd. west of Clark St. in Chicago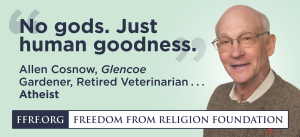 Located at Elmhurst Rd. south of Higgins Rd. in Elk Grove Village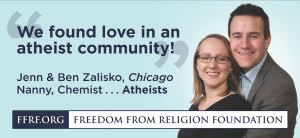 Located at Central Ave. south of Grand Ave. in Chicago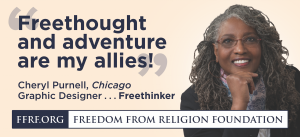 Located at Ogden Ave. South of Carrol St. in Chicago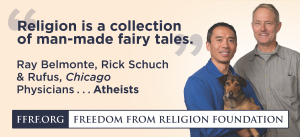 Located at Diversey Ave. west of Neva St. in Chicago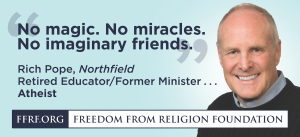 Located at Lehigh Rd. north of Devon Ave. in Chicago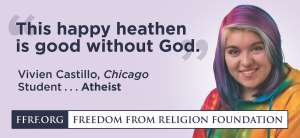 Located at Elston Ave. north of Lemoyne Ave. in Chicago
————————————————————————————————————————————